Taking out statutory health insurance as an international student at a university in Germany

Reliable health insurance coverage for the following groups of people:
The AOK as a health insurance provider for international students
With around 27 million insured individuals, the AOK is one of the largest and most popular health insurance companies in Germany. For over 130 years, it has offered its members security and comprehensive medical care when they fall ill.
The eleven regional AOKs are oriented to meet the needs of local people. The AOK is particularly active when it comes to healthcare provision for students. The AOK offers a special AOK student service with personal advice located close to universities.
For these reasons, AOK is one of our recommendations in the field of statutory health insurance for international students.
You can submit an application for AOK membership before or during your stay in Germany. The health insurance plan is valid for studying in Germany and temporary stays in the EU, Switzerland, Liechtenstein, Norway, the United Kingdom and Iceland.   This makes it easy to study or travel in these countries. 
If you need a visa to enter Germany, we recommend taking out the MAWISTA Visum health insurance plan. If you have any questions about which is the right health insurance plan for you, our insurance advisors would be happy to help you free of charge.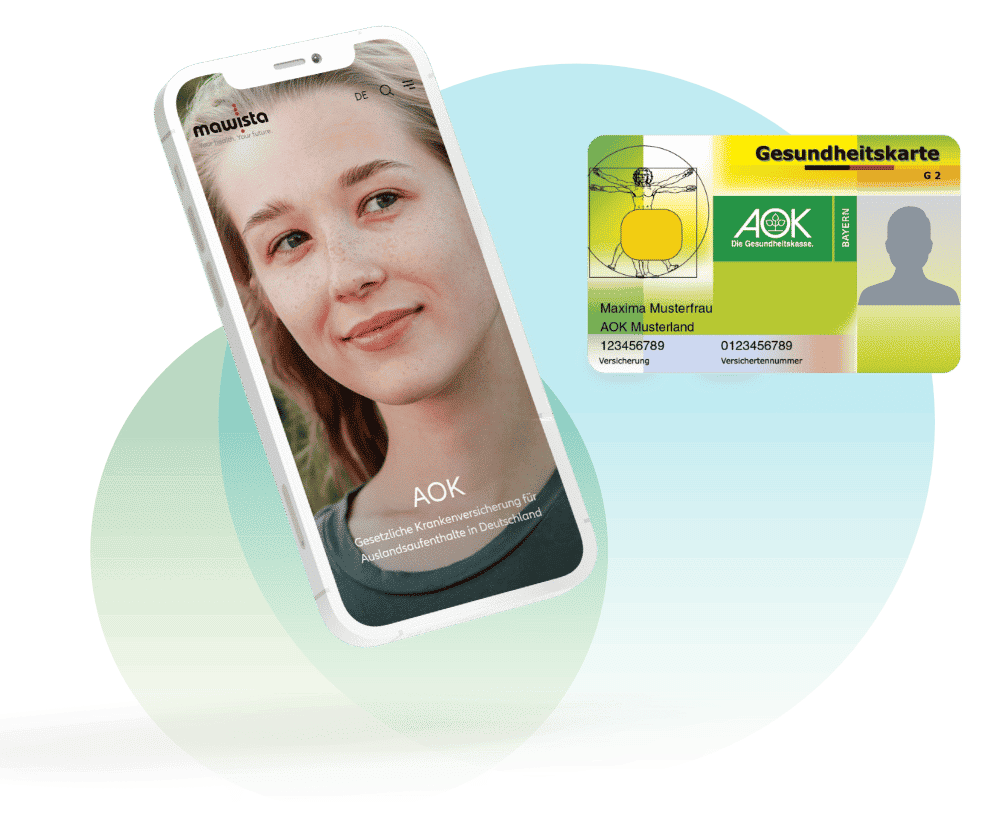 Discover the benefits of the insurance card
The AOK insurance card makes life easier for you. You can use it to identify yourself to the doctor or hospital.
The insured services provided will be billed directly to AOK via the card. It doesn't get any simpler than this.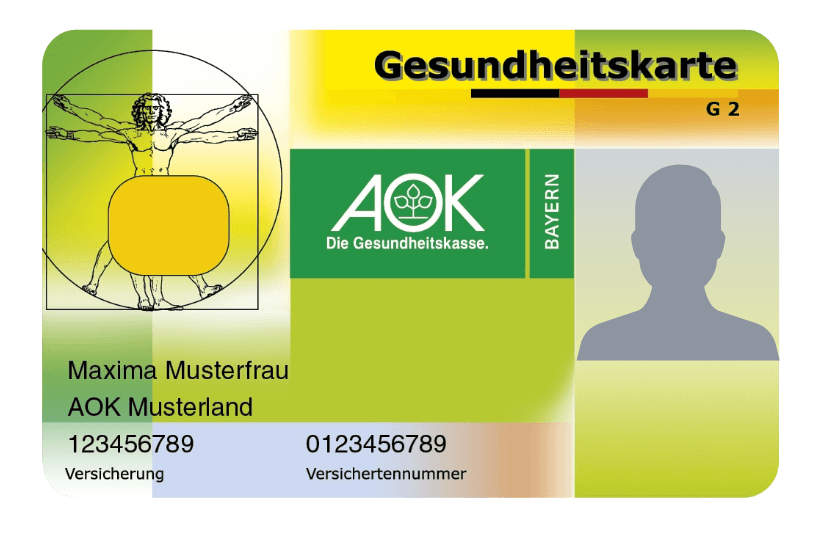 The health insurance company
With around 27 million insured individuals, the AOK is one of the largest and most popular health insurance companies in Germany. 
For over 130 years, it has offered its members security and comprehensive medical care when they fall ill. The eleven regional AOKs are oriented to meet the needs of local people.
You can get personalised advice about AOK health insurance policies from over 1200 AOK locations in Germany.
AOK Servicehotline staff will also be happy to provide advice if you have any concerns or questions about health insurance in Germany. 
Acupuncture
The AOK will cover costs for acupuncture with needles without electrical stimulation for chronic pain originating from the lumbar spine radiating down to the knee joint and for chronic pain in the knee joint due to premature wear and tear of the cartilaginous surfaces (gonarthritis). The prerequisite for these costs being covered is the pain must have been present for at least six months and treatment must be carried out by an approved statutory health insurance physician. The doctor must have undergone relevant additional training in acupuncture and also have qualifications in pain therapy and psychosomatics. The treatment must also be completed within six weeks. Up to 15 treatments sessions for a maximum of twelve weeks may be permitted in justified exceptional circumstances. The treatment can be repeated twelve months following completion of the last treatment.
Bonus programme
The AOK rewards health-conscious behaviour and preventive care with a bonus.
As the AOK community comprises elven independent AOKs and each AOK has regional offers and content, you will need to find out more in advance about the respective bonus programme from an AOK service employee or the relevant AOK website.
Electronic health insurance card
As an AOK member, you will automatically be sent an electronic health insurance card (eGK). You can use this card to prove you are insured with AOK and obtain medical or dental treatments as well as health and preventive checkups.
On the back of your card, you will find the European Health Insurance Card. This means that you will be able to access AOK services at all times, even while abroad.
Health courses
The AOK promotes health courses on exercise, nutrition, stress management/relaxation and substance abuse as well as providing qualified nutritional advice. For example, you can take advantage of the professional videos to exercise effectively at home. You will be reimbursed up to €75.00 for an in-person course and up to €100.00 for an online course. The important thing to note here is that the courses need to be certified.
General practitioner scheme
With the AOK family doctor programme, your GP is your first point of contact for any health issues. They will coordinate your treatment and involve specialists if necessary. This prevents duplicate examinations and you will receive comprehensive, optimally tailored health care from a single provider.
Your benefits:
Optimal treatment
No unnecessary treatments thanks to effective cooperation
Shorter waiting times
Extra consultation hours in the evenings
Vaccinations
The AOK covers 100% of the costs for all vaccinations recommended by the STIKO and relevant booster jabs. This applies to travel vaccinations for private trips such as for cholera, tick-borne encephalitis, yellow fever, hepatitis A, hepatitis B or A+B, influenza, Japanese encephalitis (inflammation of the brain), meningococcal disease, polio, rabies, typhus, malaria.
Medical info line
Whether you have questions about a diagnosis, a patient information leaflet or a doctor's visit you have already attended – when it comes to your health, you need assurance fast. Our team of specialist doctors and medical experts is there to give you the information you need 24 hours a day, 365 days a year.
Osteopathy
Osteopathy is a treatment process that complements conventional medicine with the aim of relieving limited movement, knots and cramps. It is practised exclusively using the hands without the use of medication or medical devices. 
Osteopathic treatment is not generally covered as part of the services offered by statutory health insurance. Costs are therefore covered by the insured person themselves in the first instance. In some regions, the AOK will cover some of the costs, such as in the case of health accounts, as an extension of benefits in kind or as part of bonus programmes. Please check this with your local AOK via the website or from an AOK employee.
Prescription contraceptives
To prevent an unwanted pregnancy, the AOK will pay the costs for a medical consultation and examination for contraception as well as specific contraceptives for insured persons up to the age of 22. Medically prescribed contraceptives can also be covered, e.g. hormonal contraceptives (the pill), hormone-based contraceptive patches and vaginal rings as well as long-term contraceptives. Costs for certain contraceptives will be covered to the same extent as for medicines.
The prerequisite for prescription of contraceptives is an examination and consultation with your doctor. For the examination, all you need is your electronic insurance card. Non-prescription contraceptives such as condoms are not covered.
Dental treatment
The AOK will cover costs of your dental treatment and preventive care with no time limit.
Monthly premium for students
Health insurance: €91.11 to €98.42
Nursing care insurance: €27.61 to €32.48
Total: €118.72 to €130.90
Monthly premium for professionals
Health insurance: 7.8% to 8.25%
Nursing care insurance: 1.525% to 1.875%
Total: 9.325% to 10.125% of gross income
Via the "My AOK" app, you can photograph sick notes, membership certificates and other documents and send them securely to the AOK. If you need to, you can manage or change your data and conveniently order a new insurance card.
With the "AOK My Life" app, you'll get an insight into your health data and can share this with your doctors if you need to. You can also store an emergency passport including emergency contacts, your medication and other important documents. The more thorough the data on your health is, the more reliable the treatment options your doctor can offer.
The aim of the "Life Balance" programme is to support you in mastering the challenges of everyday life in a better way and thus strengthening your resilience. It is based on the latest findings in resilience and psychotherapy research and is aimed at healthy people of all ages. It includes mindfulness exercises and tests to get to know your wishes and needs better as well as strengthen your personal protective factors. This also involves accepting situations that cannot be changed.
Frequently asked questions
Questions about the tariff
How do the statutory health insurers recommended by MAWISTA compare?
The services provided by statutory health insurance providers are very similar. You will be well insured by both partners. It depends more on what is important to you personally, e.g. 24/7 availability, telehealth or regional on-site care. You can find a comparison of our recommendations for statutory health insurance – AOK and BARMER – here.
Am I insured for health treatment abroad?
For temporary stays abroad within Europe (incl. Iceland, Norway and Switzerland), the European Health Insurance Card (EHIC) is sufficient. This can be found on the rear of your AOK insurance card. This entitles you to all medically necessary services that cannot wait until your return to Germany. However, it is sensible to have additional travel insurance as the EHIC is not accepted in some countries and hospitals and private bills will be issued.
Will I get proof of being insured with AOK?
You can obtain proof (AOK membership certificate) that you are insured with AOK for a residence permit or for your employer.
How can I cancel an AOK contract?
Outside the lock-in period of 12 months, AOK membership can be terminated with a notice period of 2 months. Cancellation thus becomes effective at the end of the month after next. 
Which doctor or hospital can I go to?
If the illness is minor (for example, you have the flu, headaches or have had a minor accident), we recommend you find a general practitioner in the local area. The doctor who treats you may recommend referral to a specialist if necessary. If you have toothache, you should go straight to a dentist. If you have severe pain, have had a serious accident or need to see someone outside of normal consultation hours (for example at the weekend), please visit an on-call doctor's practice that offers an emergency service or go to a hospital. Costs for all necessary treatment will be paid directly by the AOK using the insurance card you present to the doctor. 
Treatment costs will be settled directly between the doctor or hospital and the AOK. Only additional treatments that are not insured will need to be settled between doctor and the insured person. For example, extended dental cleaning or similar.
Are medications included in the insurance?
Costs for medication will be covered provided they have been prescribed by a doctor for medically necessary treatment of an acute illness.
Are costs of vaccinations covered?
All vaccinations recommended by the STIKO are covered by the AOK. 
How long will it take to process my application?
You will normally receive confirmation of your application within 48 hours during the working week.
Interested in other tariffs that may suit you?
The product finder will show you all the health insurance policies available to you as an international student.