Statutory health insurance for international students at universities in Germany

Reliable health insurance coverage for the following groups of people:
BARMER as a health insurance provider for international students
8.5 million insured individuals already trust the expertise of BARMER. As one of the biggest statutory health insurance providers in Germany, BARMER offers high-quality, innovative medical care. It is known for its commitment to optimising the healthcare system. 
For these reasons, BARMER is one of our recommendations in the field of statutory health insurance for international students.
You can submit an application for BARMER membership before or during your stay in Germany. The health insurance plan is valid for studying in Germany and temporary stays in the EU, Switzerland, Liechtenstein, Norway, the United Kingdom and Iceland.  This makes it easy to go on study trips or holidays in these countries.
If you need a visa to enter Germany, we recommend taking out the MAWISTA Visum health insurance plan. If you have any questions about which is the right health insurance plan for you, our insurance advisors would be happy to help you free of charge.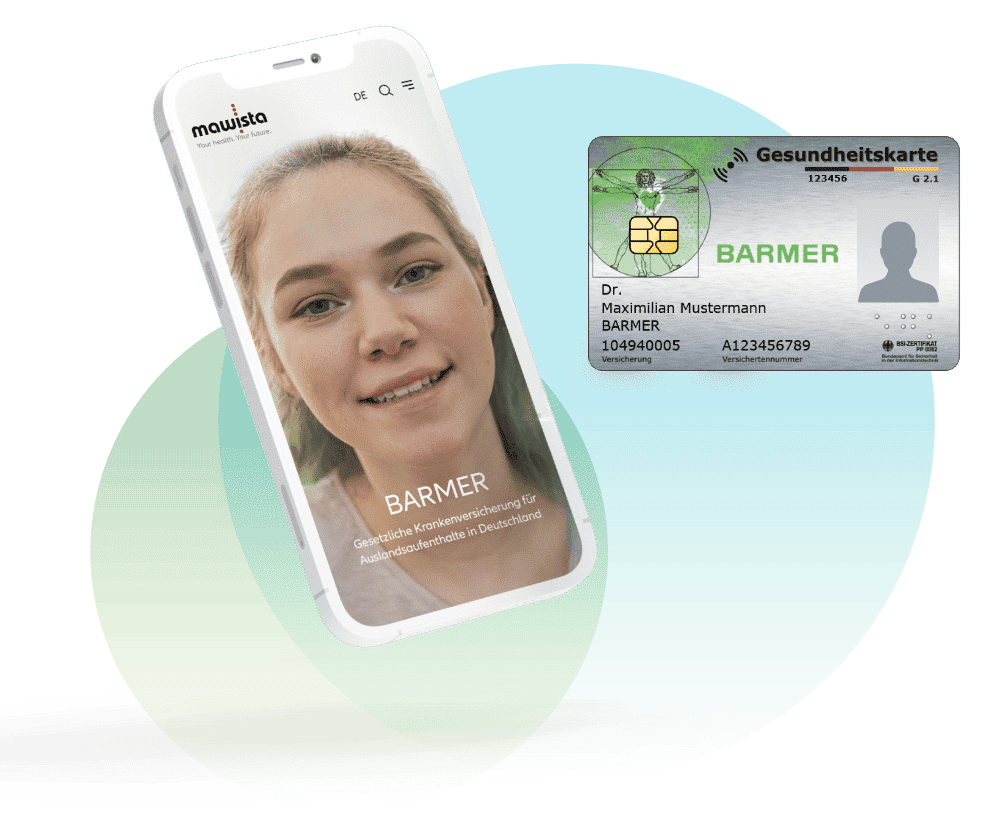 Discover the benefits of the insurance card
With the free BARMER insurance card, the costs of visiting a doctor or hospital will be covered directly. 
The insured services provided will be billed directly to BARMER via the card. It doesn't get any simpler than this.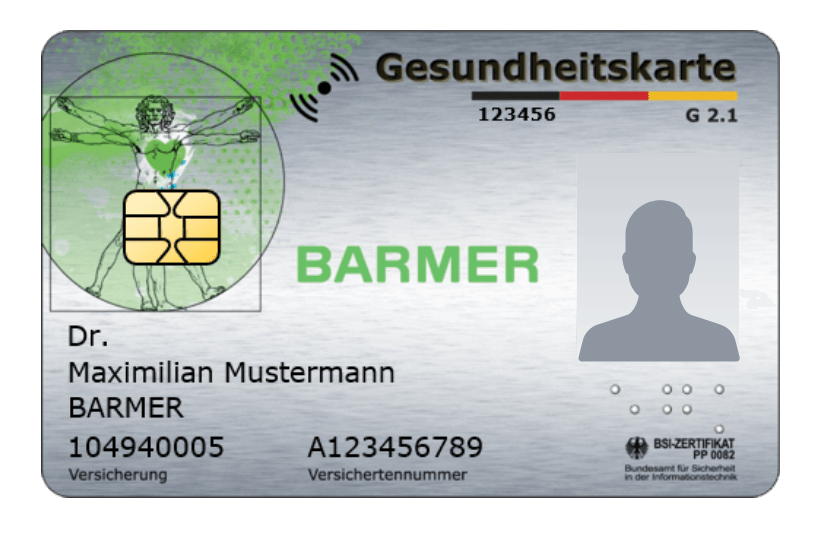 Branches in Germany
In Germany, you can access the statutory health insurance provider BARMER at a total of 380 branches. Use the branch search tool and enter your post code or town to find your local BARMER branch. In addition to the address and telephone number, your search results will also show you the opening hours.
Languages
BARMER offers 24/7 support in several foreign languages e.g. such as English, French, Spanish and Chinese.
Acupuncture
BARMER will cover costs of ten acupuncture sessions by an approved doctor if you suffer from chronic lower back pain or chronic knee joint pain caused by gonarthrosis. The prerequisite for costs being covered is that the pain must have been present for at least six months. Furthermore, costs will only be covered for doctors who can prove that they have undergone high-quality additional training in the field of acupuncture. Simply present your insurance card to your doctor. This will be used to invoice directly for the acupuncture. Costs may be covered for five additional sessions in exceptional cases if there is justified reason.
Bonus programme
With the BARMER bonus programme, you will be rewarded for leading a healthy lifestyle. For each health-promoting measure you take as an adult, you will be credited with between 150 and 200 points. This includes, for example, exercising at a gym, taking part in an online relaxation course, vaccinations or early detection examinations.
You can earn up to 100 euros or more per year by taking part in the BARMER bonus programme. You can choose a reward from as little as 150 bonus points. You can also collect points together as a family or give or donate points. You can collect bonus points for up to 3 years.
The easiest way to participate in the bonus programme is via the BARMER bonus app. You can use this to digitally submit proof and stamps. Alternatively, you can take part in the bonus programme in the conventional way in paper form. An overview of who can get what bonus points can be found in the relevant catalogue of measures.
Chronic illnesses
In order to treat chronically ill people in the best possible way and support them, BARMER has developed the Better Life programme and the Disease Management programme (DMP).
Within the programme, doctors and other medical professionals collaborate closely and systematically. This means that treatment methods can be coordinated in a more targeted way to achieve better results. Patients who participate can improve their quality of life.
BARMER offers chronic illness care programmes for the following diseases:
Diabetes mellitus Type 1
Diabetes mellitus Type 2
Coronary heart disease
Breast cancer
Bronchial asthma
COPD
Electronic health card
As an BARMER member, you will automatically be sent an electronic health insurance card (eGK). You can use this card to prove you are insured with BARMER and obtain medical or dental treatments as well as health and preventive checkups.
The BARMER eGK is now equipped with Near Field Communication technology. This means that you can transmit your data contactlessly. This function enables you, for example, to log into your electronic patient record.
On the back of your card, you will find the European Health Insurance Card. This means that you will be able to access BARMER services at all times, even while abroad.
Health courses
BARMER promotes health courses on exercise, nutrition, stress management/relaxation and substance abuse as well as providing qualified nutritional advice. You will be reimbursed up to €75 for an in-person course and up to €100 for an online course. It is important that the courses are certified by the ZPP (Central Prevention Centre).
Vaccinations
BARMER will cover the full costs of all vaccinations recommended by the STIKO (Standing Committee on Vaccination) and their corresponding boosters. This includes travel vaccinations required for private trips, such as those for cholera, tick-borne encephalitis, yellow fever, hepatitis A, hepatitis B or A+B, flu, Japanese encephalitis (inflammation of the brain), meningococcal disease, polio, rabies, typhus and malaria.
Osteopathy
In principle, osteopathy is not a recognised benefit or remedy whose costs can be covered by statutory health insurance providers. However, with the BARMER bonus programme, you can redeem your points for a reward that you can then use for one osteopathic treatment and thus save costs.
One exception in terms of cost coverage is osteopathic services that are identical to those of manual medicine. If these are carried out by contracted doctors with the additional designation of 'chiropractic therapy', the costs can be settled via your insurance card.
Gyms
BARMER will reward your commitment to your health with its bonus programme. As an adult, you will get 200 points for enrolling at a gym. The points you earn as part of the bonus programme can be redeemed for a reward.
Prescription contraceptives
To prevent an unwanted pregnancy, BARMER will pay the costs for a medical consultation and examination for contraception as well as specific contraceptives for insured persons up to the age of 22. Medically prescribed contraceptives can also be covered, e.g. hormonal contraceptives (the pill), hormone-based contraceptive patches and vaginal rings as well as long-term contraceptives. Costs for certain contraceptives will be covered to the same extent as for medicines.
The prerequisite for prescription of contraceptives is an examination and consultation with your doctor. For the examination, all you need is your electronic insurance card. Non-prescription contraceptives such as condoms are not covered.
Top medicine
There are moments in life where you need the help of experts. This is when you need top physicians who can offer you the best possible care with the highest level of expertise. BARMER not only has numerous contracts with top physicians in every region that it works closely with, but also across the country. When it really matters, you can rely on us.
For example, the Cyberknife is now one of the most important tools in cancer medicine. Experts rely on modern radiosurgery robots that make it possible to 'operate' on cancer patients without using a scalpel. This robot-assisted treatment offers cancer patients lots of advantages. Thanks to the high-precision image-guided radiosurgery, tumours can be treated in a comparatively gentle way, minimising side effects and avoiding risky operations in many cases.
Monthly premium for students
Nursing care insurance: €27.61 or €32.48
Total: €122.78 or €127.65
Monthly premium for professionals
Nursing care insurance: 1.525% to 1.775%
Total: 9.575% or 9.825% of gross income
The BARMER app offers convenient, mobile-optimised access to lots of services. For example, it makes it easy to send a certificate of incapacity for work online or request a membership certificate or other proof.
Using the bonus app, you can easily upload proof of health measures, such as membership of a gym or sports team, collect bonus points for them and redeem awards.
The Teledoctor app allows you to obtain advice from doctors and medical specialist teams, find a specialist appointment as quickly as possible and research an extensive health lexicon.
The 7Mind app offers guided meditations that you can use to reduce your stress gradually, become more relaxed and improve your sleep. Those insured by BARMER can use the app for twelve months free of charge.
The children's emergency app contains information to help you keep your children safe as well as useful help in emergencies.
The Oviva app supports you in making long-term changes to your diet and having a positive influence on your health.
eCare is the BARMER electronic patient record. Here, you can securely store your health data such as investigation results, medication plans and digital letters from your doctor and share them with the doctors treating you.
Frequently asked questions
Questions about the tariff
How do the statutory health insurers recommended by MAWISTA compare?
The services provided by statutory health insurance providers are very similar. You will be well insured by both partners. It depends more on what is important to you personally, e.g. 24/7 availability, telehealth or regional on-site care. You can find a comparison of our recommendations for statutory health insurance – AOK and BARMER – here.
Am I insured for health treatment abroad?
For temporary stays abroad within Europe (incl. Iceland, Norway and Switzerland), the European Health Insurance Card (EHIC) is sufficient. This can be found on the rear of your Barmer insurance card. This entitles you to all medically necessary services that cannot wait until your return to Germany. However, it is sensible to have additional travel insurance as the EHIC is not accepted in some countries and hospitals and private bills will be issued.
Will I get proof of being insured with BARMER?
You can obtain proof (BARMER membership certificate) that you are insured with BARMER for your residence permit or for your employer.
How can I cancel my BARMER membership?
Outside the lock-in period of 12 months, BARMER membership can be terminated with a notice period of 2 months via email (service@barmer.de). Cancellation thus becomes effective at the end of the month after next. 
Which doctor or hospital can I go to?
In principle, you have free choice of doctor or hospital, provided they are approved contracted doctors or hospitals. You can therefore consult a doctor you trust. You can find further information here.
What do I do if I am ill?
If you have a minor illness (for example, you have the flu, headaches or have had a minor accident), we recommend you find a general practitioner in the local area.
The doctor who treats you may recommend referral to a specialist if necessary. If you have toothache, you should go straight to a dentist.
Treatment costs will be settled directly between the doctor or hospital and BARMER. For non-approved treatment or treatment outside your contract, you will receive a bill you have to pay yourself. For example, for extended dental cleaning or similar.
Are medications included in the insurance?
Costs for medication will be covered provided they have been prescribed by a doctor for medically necessary treatment of an acute illness. In certain circumstances, you may have to pay a small statutory additional payment.
Are costs of vaccinations covered?
All vaccinations recommended by the STIKO are covered by BARMER. BARMER also pays for all vaccinations required for private trips.
How long will it take to process my application?
You will normally receive confirmation of your application within 48 hours during the working week.
Interested in other tariffs that may suit you?
The product finder will show you all the health insurance policies available to you as an international student.